Do you struggle with installing screen shields onto your iPhone 5?  It's sort of a double edged sword.  On the one hand you want to make sure you keep your phone's screen protected and avoid scratches and possible cracking.  However, on the other hand the iPhone 5′s screen is so beautiful to look at the last thing you want to do is cover it with a bubbled up screen shield.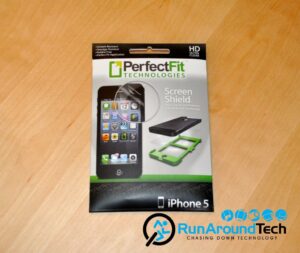 Enter the PerfectFit Technologies Screen Shield.  PerfectFit offers screen shields for the iPhone 5 in both anti-glare as well as clear in both front only as well as front and back protection.  The screen shields PerfectFit offer are really only half the story though.   What makes these screen shields different is the special applicator you use to install them.
Want to see the PerfectFit Technologies screen shield in action?  Click on through to watch my full video review.  When you're done watching you can learn more about this product by visiting the PerfectFit Technologies web site here.
What Perfect Fit Technologies says about their screen shield…
"The precision pre-cut Screen Shield applies directly to your Apple iPhone 5, providing the best clarity and scratch protection you will find. Our Apple iPhone 5 screen protectors are cut specifically to cover maximum amount of the device surface. If you ever need to remove your Screen Shield no problem; it comes off clean and leaves no sticky residue.
Includes:
1 Ultra Clear Screen Shield (Front Screen Protector)
1 Perfect Fit Applicator
1 Suede Cleaning Cloth
1 Smoothing Card
Fast & Easy Installation with our Perfect Fit Applicator:  Its easy to install a screen protector with our Perfect Fit Applicator that aligns to your screen perfectly every time. Please note: screen protector must be applied to a clean surface and any small bubbles can be wiped away with a smoothing card or your thumb; otherwise they will go away naturally within 48 hours.  All of our screen protectors have a special scratch resistant coating that helps protect your iPhone 5 from everyday wear and tear.  Our Ultra Clear Screen Shield has been described as "glass like". We use high quality ultra thin PET material that is unlike other products.  No sticky residue or getting your phone wet.  All of our screen protectors use a full silicone adhesive coating that won't leave any sticky residue when removed. You won't have to get your phone wet or wait days for it to dry like other products.  We stand by our products and offer a lifetime warranty on all of our screen protectors. Please refer to our FAQ Section for more information."
MSRP:  $24.95
PROS:  Easy to use.  Aligns screen shield perfectly.
CONS:  Won't prevent bubbles if your phone isn't clean.
Original Author: Larry Greenberg