I often shy away from waterproof style cases because I find the big and bulky.  However, summer is fast approaching so I'm a realist.  My family has trips planned to the beach and the lake, therefore I know I do need something to protect my phone while near water.  Thankfully Dog & Bone offers a sleek and slim waterproof case that's tough as nails too.  The Wetsuit Impact Case, comes in three colors and features an IPX68 waterproof rating.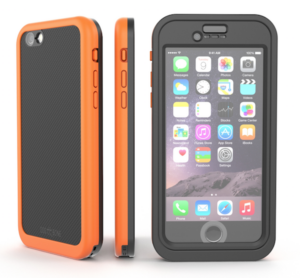 Here's what Dog & Bone has to say about it…
"Waterproof.… Shock proof. Dirt proof. Snow proof.
iP6S youtube screen header 2Life's active. We go from land to water. We venture from dirt and snow to rocky adventures. And sometimes we do nothing special but water, fumbles and mishaps find their way!
Dog & Bone takes rugged smartphone protection to new impactful heights by blending impact glass screen protection with waterproofing sophistication, style and function.
The Wetsuit Impact for iPhone 6S Plus and iPhone 6 Plus is the ultimate all-protective smartphone package, yet in a slimmest-of-its-kind form.
The unique combination of water, shock, snow and dirt protection coupled with flexible glass impact screen protection of the world's highest standard – 9H, makes this the most advanced iPhone 6S Plus and iPhone 6 Plus protection around."
Check out my full video review of the Dog & Bone Wetsuit Impact Case for iPhone 6S Plus and 6 Plus below.  Then head to this page on the company's web site to learn more about it.
Original Author: Larry Greenberg