I've always maintained you needn't spend a fortune to get yourself a pair of decent sounding in-ear headphones.  Case in point, the Moshi Mythro In Ear Headphones.  These headphones, which are priced at under $30 come in 6 different color variations and provide excellent sound quality and a great fit.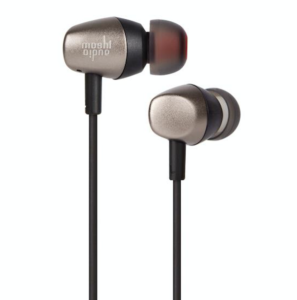 Here's how Moshi describes them…
"Indulge your senses with Moshi's Mythro, a stylish headset imbued with minimalistic aesthetics and a vibrant sonic presence. Encased in a strong and lightweight aluminum housing is Moshi's DR8 Neodymium driver that delivers a crisp sound with deep punchy bass. The in-ear design coupled with our proprietary hybrid-injection ear tips effectively block out external ambient noise while providing hours of comfortable listening. Mythro is also equipped with an integrated microphone for answering calls on the fly while listening to your favorite tunes.
DR8 Neodymium drivers (15 Hz-20 kHz / -10dB@1kHz) in an anodized aluminum casing.
Integrated microphone with universal button control.
Hybrid injection earbuds (3 sizes: S/M/L) for great noise isolation and comfort.
Includes a convenient HandyStrap cable manager."
Check out my full video review of the Moshi Mythro In Ear Headphones below.  Then head to this page on the Moshi web site to learn more about them.
Original Author: Larry Greenberg