It used to be Bluetooth wireless headphones were very expensive. That's no longer the case. If you saw my last review you realize this. Now this review I'll take a look at another pair of affordable Bluetooth headphones, this time from Mpow. If you work out,  run, or do any sort of exercise that makes you sweat, you'll want to make sure you protect your headphones.  The Mpow Antelope Bluetooth Sweatproof Stereo Sports Headphones feature a sweat proof technology that won't ruin them no matter how hard you work out.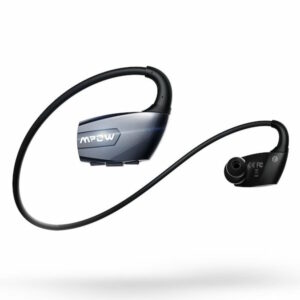 STRUCTURAL SWEATPROOF DESIGN: The exquisite workmanship of Mpow Antelope along with its high grade material gives this headphone a nearly seamless, structural sweatproof body to prevent sweat immersion. This, makes Mpow antelope a perfect choice for those sweaty sports !
BLUETOOTH 4.1 TECHNOLOGY: Latest Bluetooth 4.1 technology features much lower power consumption, more stable signal transmission, clearer stereo sound production. And the Bluetooth working distance is up to 10M. So users do not need to worry that the battery dies too quickly or suffer from continuously on and off music because of the poor signal in body movement. And enjoy dynamic sound in sports.
MOVE IN COMFORT: The stylish antelope shape not only render its user a good impression, but also secure their ears snugly in action. Besides, the lightweight back-head headphone makes them move in comfort, feeling the wireless convenience taking by Mpow Antelope.
CVC6.0 NOISE REDUCTION: Noise Cancellation 6.0 reduces outside noises and enables clearer sound from microphone. Perfect for working out along with excellent noise isolation.
HANDSFREE CALLING: With built-in microphone, you can answer mobile phone call by pressing the button on the ear piece.
Check out my full video review of the Mpow Antelope Bluetooth Sweatproof Stereo Sports Headphones below.  Then head to this page on Amazon to learn more about them.
Original Author: Larry Greenberg