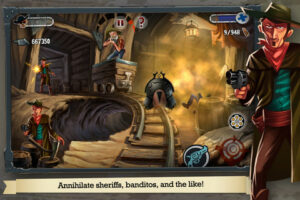 Atari announced that they have just released a new game for  one for the iPhone, iPad and iPod touch called Atari Outlaw™ Atari Outlaw is a fan favorite game from the classic Atari collection.  It utilizes the original Western themes of the original game but now comes witha larger expanse of weapons and  now uses touchscreen controls.
This shooter game was made by Flying Wisdom Studios where players play as the armed to the teetch bounty who's out become the fastest gun slinger in the west.  The player has to shoot banditos, miners, and other such ill-fated folk in order to collect silver and gold.  The precious medals are used to by new weapons or upgrade their current weaponry.  Player can try to be the dominent contender on the leader board and show the world who the best gun slinger really is.
"Atari's 40th Anniversary is the perfect time to release a fresh version of Atari Outlawfor mobile devices," said Jim Wilson, CEO of Atari. "Like last month's Super Bunny Breakout™, Atari Outlaw remains true to the skill-based arcade spirit of the original, fully updated to harness modern features and touchscreen capabilities."
Atari Outlaw is out now for free via the App Store.
Keep up with Atari using the following networking sites:  atari.com, Facebook, Twitter, YouTube Channel.
The link to this story can be found here.
Original Author: Zach Buckler