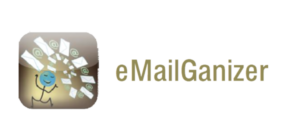 eMailGanizer for iOS wants to be your personal email assistant. If you're anything like me I'll bet you get a lot of email. Managing it all is never easy. I set a personal goal for myself each day. The goal? My inbox has to be empty at the end of each day. That means I have to either read or file anything that comes in to be successful. It's not as easy as it sounds. But eMailGanizer has been making it a little easier to do. The app works to help you quickly organize your mail into folders making for a more streamlined, easier to tackle inbox. How does it do this you ask? Read on the find out.
The first time you open eMailGanizer you'll need to complete the set up process. This means you'll need to enter the login details for all of your email accounts so that the app can sync with them.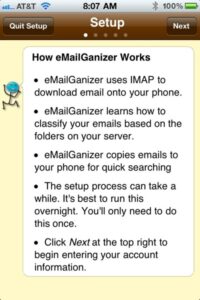 After that the app needs time to learn each of your accounts and the folders associated with them. It does take a considerable amount of time for the app to index each of your account and depending on how many messages you have stored on the server you may want to leave it running overnight.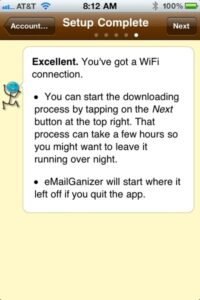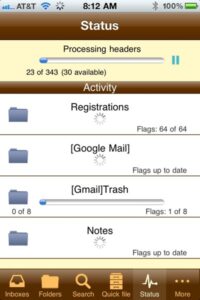 The Inboxes tab of eMailGanizer is where you'll find each of your accounts. Tapping on each account opens the inbox associated with that account. You can then read, reply, forward etc. to messages just like you'd do in the default iPhone mail app.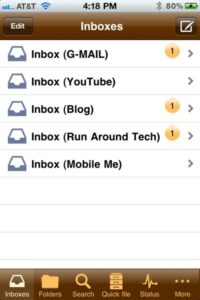 If you decide you'd like to file a message at that point the app makes it very easy. You simply tap the "organize" button. Here's what cool though. At that point you're presented with what the app thinks are the two most likely placed you'd like to file the email. It learns your preferences. If it's wrong simply tap "more" and you'll see even more likely choices for filing.  You can file things for later too.  If you're offline and want to read and file your mail you can do so.  Once you're back, connected to the internet the app will sync itself and your mail and folders too.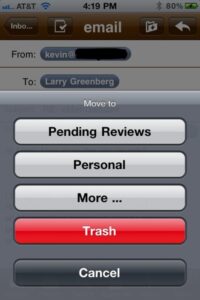 The Folders tab shows all of your email folders. There's also a bookmarks buttons which when pressed presents you with your most used folders. You can choose to favorite any folder and add it to bookmarks as well.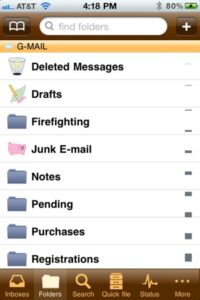 If you want to quickly batch file a large number of emails you can do so on the Quick File tab. Each of your emails is displayed with the folder the app thinks you'll probably want to file it to. Check them off if they're correct and then file them away.  If you want to change the folder an email will be filed to simply tap on the suggested folder to change it to another.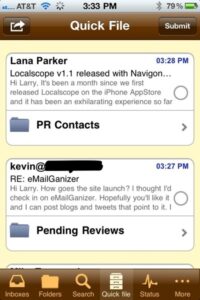 Searching for emails is a breeze too via the Search tab. eMailGanizer also is able search for any message in your account unlike the iPhone which limits folder downloads to the most recent 50.  This makes it very useful for tracking down emails that are months old.  And you don't need to be online to search either.  You can complete full text based searches of your email even when you're offline.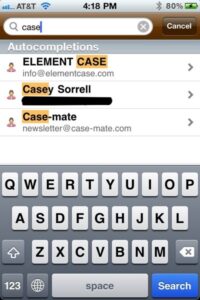 The ad supported version of eMailGanizer is free and the pro version runs $4.99. You'll need an IMAP email account to use either version the Hotmail is not supported.  If you're obsessed with keeping your inbox neat and organized like me you'll want to check out this app.  The more you file away the smarter the app gets learning your preferences and making suggestions accordingly.
You can learn more about eMailGanizer in the iTunes App Store by clicking here.
MSRP: Free Ad Supported Version or Pro with no Ads for $4.99
PROS: Makes good suggestions based on your filing behavior.
CONS: No universal inbox.  Slow set up.
Original Author: Larry Greenberg