The Hoimzx 12V 6A Automotive car battery charger is compact in design.  It is only 9" x 4" x 3" and only weighs 1.12 pounds.  But despite its compact design, it recharges or easily maintains trucks, cars, motorcycles, lawnmowers, or marine batteries and is energy efficient.
Just plug the charger into any 110v outlet, connect to the battery, choose one of the four modes (CAR/AGM/MOTO/REPAIR), and let the charger automatically do the work.
The all-in-one Hoimzx Automotive car battery charger also has a built-in Desulfator.  A Desulfator (also called reconditioning) will determine the battery's health and sulfation level and will attempt to restore any lost power that the battery may have.  This can also be known as a battery maintainer or trickle charger.
The Hoimzx Automotive car battery charger has an ABS Flame-retardant shell with multiple safety protections. It has reverse connection protection, short circuit protection, overheat protection, over-voltage protection, low voltage protection, and over-current protection for your safety. The charger also has a built-in cooling fan to keep it cool during long charging sessions.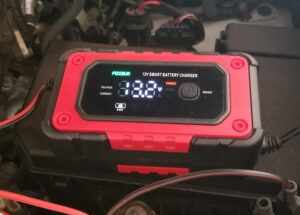 The battery repair mode will detect the battery sulfation and acid stratification and restore lost battery performance. This feature will not work correctly on a totally dead battery or a seriously damaged one and is not compatible with lithium-ion batteries.
The LED display shows the current-voltage, charging status, battery status, and the charged percentage.  The Hoimzx Automotive car battery charger will automatically stop charging when the battery is fully charged.
Other options
MOTOPOWER MP00205A 12V 800mA Automatic Battery Charger, Battery Maintainer, Trickle Charger, and Battery Desulfator
2-in-1 Smart Car Battery Charger and Battery Tester, TOPDON TB6000Pro 6Amp 6V/12V Trickle Charger Maintainer Automotive, 12V Load Tester, App Control Desulfator Lead-Acid AGM LiFePO4 Batteries