In this review, we are testing the Arctic Liquid Freezer II 360 A-RGB cooler in a GIGABYTE Z790 AORUS ELITE AX LGA 1700 motherboard with an Intel Core i7-13700KF CPU and CORSAIR VENGEANCE RGB DDR5 32GB (2x16GB) 5600MHz CL36 memory.
The ARCTIC Liquid Freezer II 360 A-RGB is an all-in-one (AIO) CPU water cooler with A-RGB that is both Intel and AMD compatible and is backed with an impressive 6-year warranty. The Liquid Freezer II is compatible with the Intel 1700, 1200, 115X, 2011-3, 2066 *Square ILM, and the AMD AM5, and AM4 CPUs. You do not have to worry about cable clutter since the Liquid Freezer II offers integrated cable management within fully-sleeved tubes for a nice, clean look in your case.
The water cooler also incorporates a 40mm VRM fan on top of the CPU pump block unit and will help cool around the CPU, but the translucent housing does not offer RGB LED. The kit also comes with a 0.8g tube of high-quality MX-5 thermal paste.
Unlike air or fan coolers, the CPU block fits around the CPU and will not interfere with your memory slots, giving you full RAM compatibility without any limitations on the memory height.
The Liquid Freezer II A-RGB fans can be synced through a motherboard software tool and do not require a lighting control box.
The Liquid Freezer II operates quieter and at higher efficiency than a lot of the liquid coolers since the water pump is PWM (Pulse-width modulation) controlled and will adjust its speeds accordingly and it will decrease the power consumption, resulting in less noise during light workloads.
Remember that the 360mm radiator Liquid Freezer II is 38mm thick and 398mm long, allowing a more significant amount of liquid to be used in the circuit, resulting in a larger cooling surface area. But it will also mean that you will need a case with more clearance when you add fans for this cooling advantage. The Liquid Freezer II also comes with three preinstalled 120mm P Series fans with speeds ranging from 200-1800 rotations per minute (RPM).
The Arctic Liquid Freezer II 360 consistently cooled the Intel Core i7-13700KF CPU much better during gaming and under light workloads than the Noctua NH-D15. At idle, the Liquid Freezer II offered a 5-7 degrees Celsius difference, as shown below.
Noctua NH-D15 ARCTIC Liquid Freezer II 360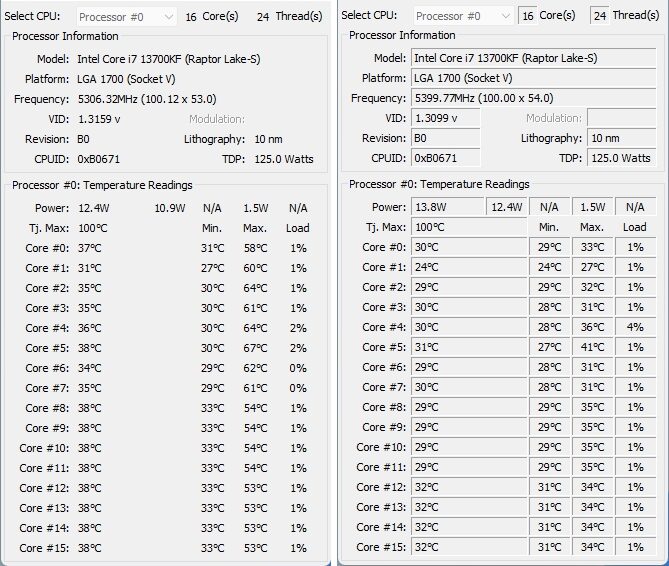 Liquid Freezer II 360 A-RGB
General Specifications
Compatibillity: Intel® 1700, 1200, 115X, 2011-3, 2066 *Square ILM, AMD® AM5, AM4, AM3(+)
TIM: MX-5 (0.8 g)
Weight: 1729 g (3 Fans, Radiator, Pump, Tubes)
Warranty: 6 years
Connector Fan: 4-Pin PWM Connector
LEDs: 3-Pin 5V-DI-GND Connector
Pump/Cold Plate Specifications
VRM Fan: 40 mm, 1000–3000 rpm (Controlled by PWM)
Pump: 800–2000 rpm (Controlled by PWM)
Power Consumption: 0.5 W–2.7 W Pump and VRM Fan
Tube Length: 450 mm
Tube Diameter: Outer: 12.4 mm | Inner: 6.0 mm
Dimensions: 78 (L) x 53 (W) x 98 (H) mm
Material: Aluminium
Dimensions: 398 (L) x 38 (W) x 120 (H) mm
Fan Specifications
Speed: 200–1800 rpm
Airflow: 48.8 cfm | 82.91 m³/h
Static Pressure: 1.85 mmH20
Noise Level: 0.3 Sone
Fan Dimensions: 120 (L) x 120 (W) x 25 (H) mm
Speed Control: Pulse Width Modulation
Connector: 4-Pin Connector Cable
Bearing: Fluid Dynamic Bearing
Current | Voltage: 0.11 A | 12 V
RGB Specifications
LEDs: 3 x 12 A-RGB LEDs
Connector: 3-Pin 5V-D-GND Cable
Current | Voltage: 0.4 A | 5 V
Radiator Specifications
Material: Aluminium
Dimensions: 398 (L) x 38 (W) x 120 (H) mm