Unity, the immensely popular game development engine, has recently unveiled a new fee structure that has sparked significant controversy within the game development community. Previously, Unity's engine offered royalty-free licensing, allowing game developers to create and sell their games without incurring additional costs. Unfortunately, with this recent change, the company is shifting towards charging developers a per-install fee for each download.

This revised pricing model is scheduled to take effect on January 1st, 2024, and will not be retroactively applied to games that were previously installed. The fees imposed will vary depending on the subscription tier held by developers, ranging from $0.125 per installation to a maximum of $0.20. For exceptionally popular games exceeding 1 million installations, fees can be reduced significantly to as low as $0.01 per install.

The comprehensive pricing details are outlined in the table below: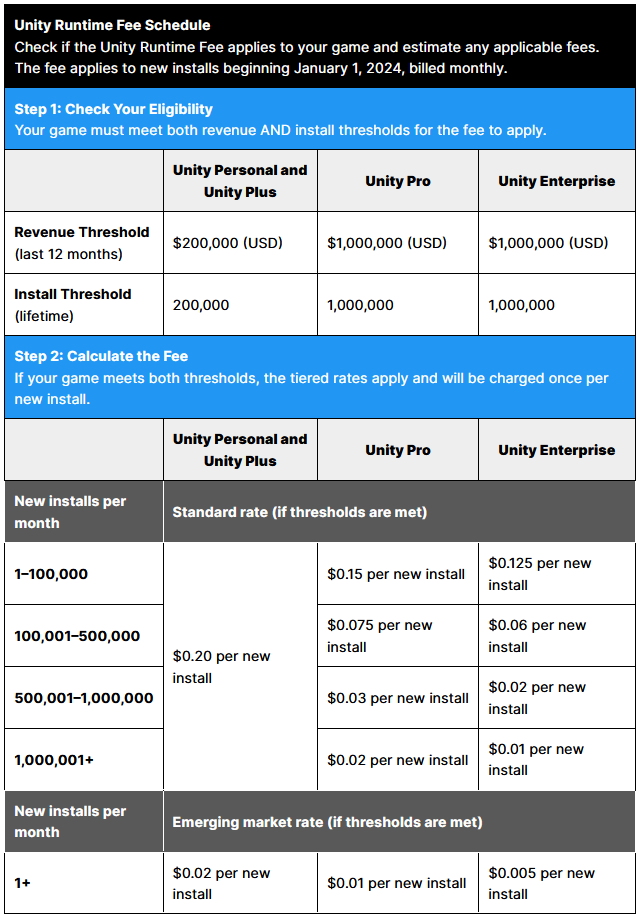 At its current state, this new pricing structure has caused significant harm, leading many indie developers, such as the creator of Cult of Lamb, to announce their intention to remove their games once these changes are enacted. Unity Technologies has essentially set unrealistic pricing standards for indie developers, impacting both those currently developing Unity games and those who have already released them.

Furthermore, there remains a great deal of uncertainty regarding games hosted on platforms operated by major companies like Nintendo and Sony. Many Nintendo Switch games available in their store are developed using Unity, and this change will necessitate these large companies, including Nintendo, to pay Unity Technologies for each installation on their proprietary hardware.

While we await further official announcements and a response from Unity Technologies, there are some positive aspects to consider. Other game engines, such as Gamemaker, have publicly committed to never implementing such an adverse pricing structure for their engines. Unreal Engine and Godot have also experienced increased popularity and user support, as they continue to offer free usage, similar to how Unity operated before this new pricing model was introduced.

For game developers, especially indie developers embarking on small game projects, exploring alternatives outside the Unity ecosystem may be worth considering. The impact of this backlash on Unity Technologies' future actions remains uncertain, but for now, the years of trust they have built have been severely eroded.