Whether it's during traveling, working, or at home, having access to a powerful and fast charging adapter provides a fantastic amount of quality of life. Aiibe's 65W GaN Type-C Adapter is a device with thoughtful features that provide fast charging coupled with safety nets and accessibility. Coming in at a more than respectable 4.7 stars on Amazon, this Aiibe adapter is a must-have for any frequent traveler.
At its core, the Aiibe 65W adapter is more than capable of handling multiple devices at the same time, whilst also distributing ample power to each connected device. While its 65W capacity is distributed when more than one device is connected, in 99% of cases, this won't be an issue, and still provides more than a generic wall outlet adapter.
The Aiibe adapter is also much smaller than its competitors, clocking in at a mere 2.4×1.3×1.5 inches, this adapter has no difficulty being packed or even stored within pockets. Also, the adapter comes with foldable prongs to prevent snagging, hitching, tearing, or scratching of other objects whilst being packed in its small form factor.
In regards to security and safety, this adapter utilizes GaN Tec to provide features that protect your treasured devices from events such as over-voltage, over-current, short-circuits, and temperatures.
Specifications
As mentioned before the Aiibe 65W Type-C adapter also provides different power distributions depending on the cable configuration. Below you can see the full list of configurations and the amount of watts you can expect when using the device in these various setups.
Input: 100-240V~ 50/60 Hz 1.5A Max
Output: Type-C1: 5V = 3A / 9V = 3A / 12V = 3A / 15V = 3A / 20V = 3.25A (65W Max)
Type-C2: 5V = 3A / 9V = 3A / 12V = 3A / 15V = 3A / 20V = 3.25A (65W Max)
USB-A: 5V = 3A / 9V = 2A / 12V = 1.5A (18W Max)
Type-C1 + Type-C2: 45W + 20W (65W Max)
Type-C1 + USB-A: 45W + 18W
Type-C2 + USB-A: 15W
Type-C1 + (Type-C2 + USB-A): 45W + 15W (60W Max)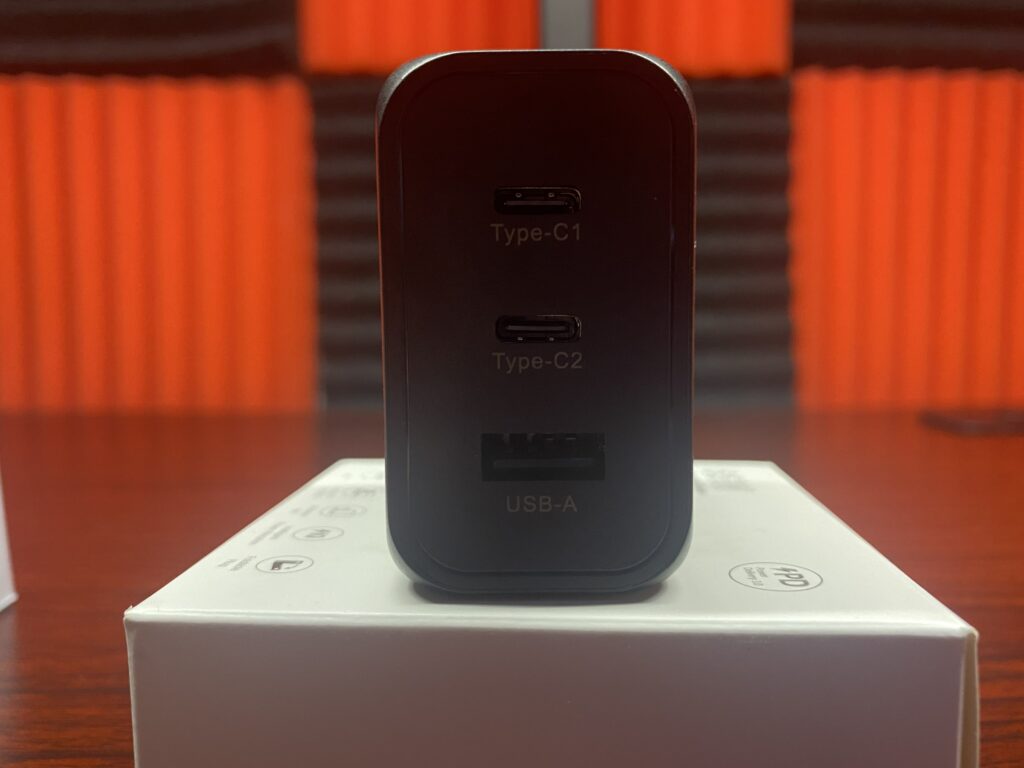 Testing
During our review of the Aiibe 65W Type-C adapter, we've also briefly tested it's capabilities. Below are three tests on vastly different devices to see how the adapter performed.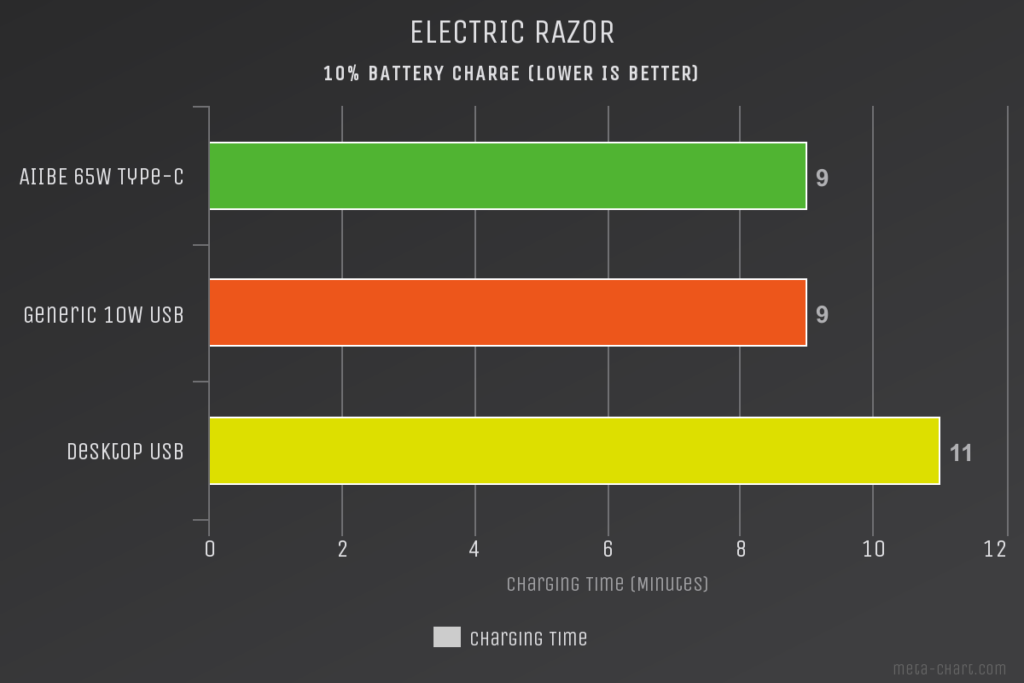 Looking at the results, the Aiibe 65W adapter isn't able to truly stretch its legs until the iPhone 12. This isn't a poor result for the Electric Razor and Nintendo Switch, however, because the Aiibe performs just as well whilst also providing its GaN-enabled protections in these scenarios. Going back to the iPhone, you can clearly see how the Aiibe massively outperforms devices that have a higher watt input limit.
Conclusion
The Aiibe 65W Type-C GaN-enabled adapter has proved itself to be more than capable of handling your treasured devices, and charging them at alarmingly fast speeds. This comes with the safety nets GaN provides whilst also being minuscule in form factor. Clocking in at around ~$32 USD, adding this device to your home or packing list is a no-brainer.