Are you on a computer all day long?  How about your iPhone or iPad.  Does staring at that screen for hours on end cause you eye strain or even headaches?  Staring at a screen all day long can cause your eyes to dry out and become painfully strained.  Gunnar Optiks is the world's only line of eye ware specifically made to protect your eyes from this sort of trouble.  When your eyes aren't strained you concentrate better and in turn become more productive.  Whether you're a gamer, programmer, or just a web surfer you'll benefit from GUNNAR's special technology.  Want to learn more about Gunnar Optiks and find out how my experience with them went?  Check out my full review below for more.
Read on through for my full review and be sure to catch the video at the end of the review for a more up close and personal look at the GUNNAR Optiks Computer Eyewear.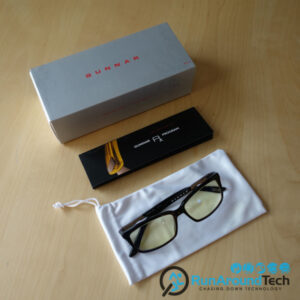 Inside the packaging you'll find the glasses along
Here's what GUNNAR has to say about their Optiks Computer Eyeware.
Eyewear architecture. GUNNAR HAUS computer glasses rewrite the design paradigm with turn-of-the-century, European hand crafted materials melded into micro-forged modernistic detailing. Acetate temples with inner bendable cores provide a customizable fit. Spring hinges with a measured flex rate provide gentle retention to keep the eyewear in place. Precision designed metal hinge block creates the engineered stability and function for long term wear. For anyone who appreciates design, the HAUS is truly built.
FRAME BENEFITS
Multi-layered acetates catch and reflect light to creating depth and stylistic detail
One piece front construction eliminates all welds, screws and other potential points of failure
Curved nose rests provide even weight distribution and eliminate pressure points
Full rim design is stylish yet professional enough for any workplace setting
LENS BENEFITS
The proprietary lens shape protects your eyes from drying air currents
Specifically tuned focusing power improves detail for clearer vision
Crystalline lens tint is engineered for graphic designers and visual artists working in true color
Protective lens coatings include anti-reflective properties to reduce glare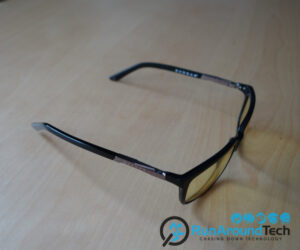 GUNNAR says that their computer eyewear is engineered to reduce eye strain while increasing contrast, comfort and focus. This revolutionary technology is meant to give your eyes the relief they deserve.  The company offers several different frame styles from which to choose from.  The model I was sent for review is called "Haus".  They even offer prescription lenses if you require them and they accept some vision insurance too, although I do not.
So how do GUNNAR's actually work?
Really in several different ways.  For starters, it's their shape.  The special curved shape of the frames and lens protect your eyes from air, which can dry your eyes out and cause irritation.  Next, the technology inside the lenses is meant to help you focus more.  Text is meant to be clear and images sharper resulting in less strain as you simply see better.  Third, the lenses are optically clear so there's no distortion as you look through them.  Fourth, the custom tinting on eye GUNNAR lens filters out the harsh artificial light from digital screens, improving overall contrast and comfort by eliminating harmful high-intensity blue light.  Finally, a lens coatings include anti-reflective properties that reduce peripheral glare which help relax your eyes and stop them from straining. A hard-coated exterior creates a durable, protective layer, minimizing the chance for damage or scratching caused in the midst of a hectic workday or gaming session.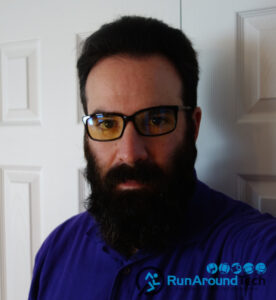 During my review period I wore the glasses for about three hours a day.  This was over the course of a week.  I'm on the computer much more than that but wanted to see how I felt not only with the glasses on but with them off.  I wore them to the movies and while watching TV as well as sitting in front of my monitor.
The bottom line for me, the GUNNARs work!  I found wearing them while on my computer to be a real pleasure.  Where in the past I found myself squinting at the sharp, bright display of my monitor with the GUNNAR's on my eyes focuses easier and I didn't have the annoying squint going on.  After wearing them for only a short time I'm now completely conscious of when I'm not wearing them.  I notice my eyes straining more and am quick to put the glasses on.  Here's the cool thing about GUNNAR's.  You've got nothing to lose.  The company wants you to try them out.  If after two weeks you don't see a difference in your eyes you're free to send the glasses back for a full refund.  Whether you need the glasses or not really depends on how your eyes are.
If you're someone who has zero eye issues at all you'll probably not see much improvement from wearing a pair of GUNNARs.  Let's face it, if you're eyes are perfect what's there to be improved?  Howerver, if you're like the rest of us and do suffer from some sort of eye issue, dry eyes, strain, headaches etc. and you're in front of some sort of screen for more than an hour a day, you'll most certainly benefit from incorporating a pair of GUNNARs into your daily screen time.  I know I plan to keep my pair by my computer from now on so that I always remember to put them on.  Check out the GUNNAR web site to find a frame that matches your style and give a pair of these special glasses a whirl.  You won't be sorry and you're eyes will thank you.
You can learn more about GUNNAR Optiks Computer Eyewear by visiting this page on the company's web site.
MSRP:  $99
PROS:  Tons of styles.  30 day guarantee.
CONS:  None.
Original Author: Larry Greenberg