It's the question I get asked more than any other.  "What's your favorite iPhone case?"  In reality the answer is, none!  I love using my iPhone without a case.  I appreciate the design Apple created and don't like covering it up.  I am however a realist and recognize the fact that I need some sort of protection.  If nothing else to protect my investment and insure I get full market value when it comes time to sell the iPhone 5 to make way for the next version of the iPhone.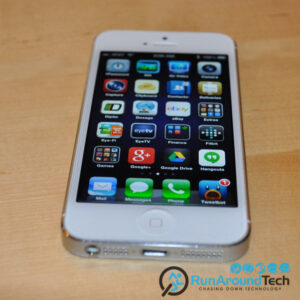 I first reviewed BestSkinsEver way back when I was a Blackberry user years ago and had a small review site where I reviewed cases and other accessories.  Fast forward to the present and a Twitter follower who reached out to me to suggest that I give them a try for the iPhone 5, more specifically the company's new matte skins.  After some initial hiccups with getting me the right product for my iPhone 5 I had proper review samples in hand and began to test.  I've had the BSE (BestSkinsEver) product on my phone for about a week now and am ready to offer my thoughts.  How does BSE differentiate itself from all the other "wet" install full body skins on the market?

You'll have to read on through for my full review to find out.

Inside the packaging you'll find just the skins you ordered.  BestSkinsEver relies on you to make up your own install solution and to use your own squeegee.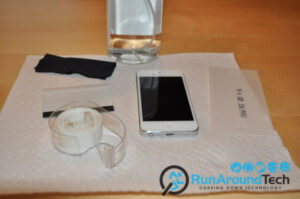 Here's what BestSkinsEver has to say about the iPhone 5 Full Body Skins.
If you are looking for our Matte Material options for your iPhone 5, you have come to the right place!
In addition to our standard Glossy Skin products for the iPhone 5, Best Skins Ever now offers the iPhone 5 Body Skins in a Matte material. For those who prefer to use our Skins along with a case or bumper, we have our "Case / Bumper" combinations to choose from (** see note below).
We offer the following Matte material options to fit your personal requirements:
Total Body Skin – Glossy material & Matte material combinations:
♦ iPhone 5 Total Body Skin with Matte Body Skin: This includes the Screen Skin – Glossy and Body Skin – Matte (Back and Side Skins).
♦ iPhone 5 Total Body Skin with Case / Bumper Optimized Screen & Matte Body Skin: Includes our Case / Bumper Optimized Screen Skin – Glossy and our standard Body Skin – Matte (Back and Side Skins). **
♦ iPhone 5 Total Body Skin Case / Bumper Optimized with Matte Body Skin: Includes our Case / Bumper Optimized Screen Skin – Glossy and the Case / Bumper Optimized Body Skin – Matte (Back and Side Skins). **
Screen Skin Only – Glossy material options:
Note: Both Screen Skins are made with our standard Glossy material as we feel the matte film creates a slight distortion.
♦ Glossy – iPhone 5 Screen Skin Only: Provides our standard coverage for your entire screen, made with our standard glossy material.
♦ Glossy – iPhone 5 Case / Bumper Optimized Screen Skin Only: This is designed specifically to be used with cell phone cases and bumpers. It is a slightly smaller Skin that fits within most case edges. We suggest applying this Skin with the case/bumper on your phone for optimal positioning. Made with our standard glossy material. **
Body Skin Only – Matte material options:
♦ Matte – iPhone 5 Body Skin Only: Includes full protection for the back and sides.
♦ Matte – iPhone 5 Case / Bumper Optimized Body Skin Only: Includes protection for the back and sides. This back is designed slightly smaller to be used specifically with a case or bumpers. **
For assistance in selecting the right Skin combination for your personal needs, please send us an email.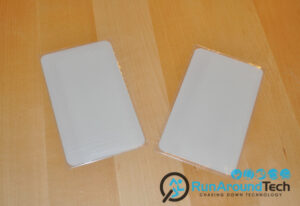 ** Note: The "Case / Bumper Optimized" Skins are slightly smaller to be used with a bumper or a case that overlaps the edge of the screen or back.  This will avoid any interference between the Skin and the case or bumper.
BestSkinsEver sent along two of their full body protective kits for me to review.  The first contained a set of matte back and side pieces along with a glossy clear front piece.  While the second set contained a full set (back, sides and front) of just matte.  Take note, that in order to save money BSE doesn't include any install solution along with their products.  This is a "wet" install so you'll have to make up your own solution to install it.  Fear not though.  Making up the solution is as easy as adding some dish washing liquid to water.  If you want to see the entire process including the install of the product check out the video BSE has on their web site below.
For this review I opted to install the matte sections to the back and sides of my iPhone 5 and the glossy clear skin to the front.  I followed the directions detailed in the video above and the process went fairly smooth.  The back and front pieces went on without issue.  I did have some fit issues with the sides.  BSE ever told me that they "intentionally design their skins for a tight fit with small tolerances.  The stretchy properties of the matte film, which allows it to conform around the complex corners providing better coverage, also make it easier for the thin side pieces to be stretched out of shape during the application process."  I may have overstretched some of the pieces a tad because I found, one or two times I had trouble making all the pieces fit together.  Eventually though, with care, I got them on right.
The matte product is almost invisible.  Once installed, bubble free, which is quite easy to accomplish with a wet install, and after the product fully cures (24-28 hours) it simply looks spectacular.  At times it actually had me questioning whether or not I'd forgotten to install a section, especially on the sides.  It looks that good.  If you're after protection for the sides and back of your phone that's not noticeable, this is it, period.  I did play around with installing the matte skin on the front and while I recognize the anti-fingerprint qualities it offers I just can't bring myself to cloud up the iPhone 5′s beautiful Retina display.
The glossy clear front skin doesn't degrade the clarity of the Retina display in any way.  There's little to no orange peal effect either.  This "rough" texture is found in many of the wet-install skins on the market and I'm glad to see BSE has found a way to eliminate it.
Check out my full video review below…
BestSkinsEver is offering some of the most affordable full body protective skins on the market right now.  They do so by doing a variety of different things.  First, they use no frills packaging.  Skins arrive in a generic envelope.  Second, they do not include any install solution, microfiber, squeegees etc.  Third, they offer no lifetime warranty.  While you might think each of these things are a knock on the company they are not.  I'm totally fine with them all and appreciate the honestly of BestSkinsEver.  The company has recognized that, we the consumer, would rather pay less and not get a bunch of extra stuff we don't really need than pay more to get extra junk.  There's no issue at all with the quality of the BSE product either.  The matte protective skins are some of the best I've seen when it comes to retaining the out of the box look of your iPhone 5 and the glossy front skins are as good as the other top skins on the market too.
You can learn more about the BestSkinsEver iPhone 5 Full Body Skins by visiting this page on the company's web site.
MSRP:  $6.99 – $8.99
PROS:  Inexpensive.
CONS:  No install solution included.
Original Author: Larry Greenberg