As a former marathon runner one of the mantras I lived by was "nothing new on race day."  Basically I never wore or used anything on the day I ran a marathon that I hadn't previously used during one or more of my extensive training runs.  When ecbc contacted me just before CES to ask if I'd be interested in picking out one of their bags to bring along with me to the show I was admittedly somewhat apprehensive.  CES is a huge show and I bring a ton of gear.  The bag I use to while at CES is with me and on me almost 24/7.  I'm constantly going in and out of it for things and it's often filled with items I've picked up during the day.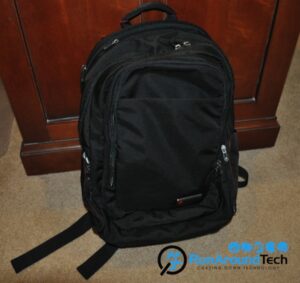 Bringing along a bag that I'd never actually used before was a risky proposition at best and the former marathoner inside me was shouting warnings from within.  However, I decided to go for it.  How did my experience with the ecbc B7103 Lance Daypack turn out?
Click on through for my full review.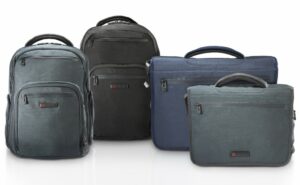 The ecbc B7103 Lance Daypack is available in your choice of either black or gray.  It's made from a combination of three different primary materials.  840d HD Ballistic Nylon for the body, 1680d HD Ballistic Nylon for the base and 210d Double Diamond for the rip stops.  The bag measures in at 18.5″ x 12.1″ x 10.1″ and is large enough to accomodate up to a 17″ laptop.
Here's what ecbc has to say about the ecbc B7103 Lance Daypack.
The Lance Daypack is crafted from the most durable water repelling ballistic nylon and has the most interior storage space of all our bags. It was designed to accommodate the various working environments and changing requirements of creative professionals by keeping them as organized as possible. The Lance features durable YKK zippers, an ergonomically designed shoulder strap system with adjustment points, a breathable back padding design, a super soft neoprene mobile phone pocket, and zip-away powermesh side pockets for water bottles.  The padded, TSA-compliant laptop compartment unzips and lays down flat for going through security without having to remove your coveted laptop.
Inside the packaging you'll find just the ecbc B7103 Lance Daypack itself and really that's all you'd expect to find.
The ecbc B7103 Lance Daypack has a plethora of features.  We won't be able to cover ever single one in this review but I'll try to highlight the major ones.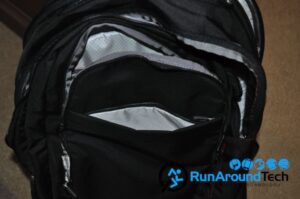 Let's start with the outside of the bag and work our way in.  The front of the bag offers up a quick access zippered pocket that's perfect for documents, plane tickets or your passport.  At CES I used to store my camera equipment (I was using a small point and shoot).  I probably went in and out of the bag for my camera more often that any other item so I felt it best to have it always accessible.
The back of the bag is filled with EVA foam across its entire surface.  I'm not one who often wears a backpack with both straps, over the shoulders but I did with the ecbc B7103 Lance Daypack.  I found it very comfortable to wear even loaded down with all my stuff.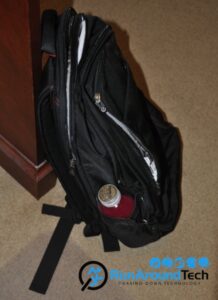 The ecbc B7103 Lance Daypack has two zippered water bottle pockets.  These easily open or close up when needed and I needed them often.  Whether I was boarding my flight to Las Vegas or walking the show floor I almost always had one of these pockets filled with a large 20 oz. water bottle.  When empty though the pockets zipper up and tuck away nicely.
About that water bottle.  On my flight home one of my bottles leaked.  Thankfully the ecbc B7103 Lance Daypack features a high quality ballistic nylon with a water repellent coating.  All of my precious electronic gear was safe and sound, and most importantly dry inside the bag.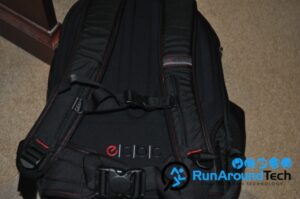 The ecbc B7103 Lance Daypack has Duraflex adjustable padded shoulder straps with adjustment points which contributed to what can only be described as a comfortable wear by the user, even when fully loaded with gear.  It also has a sternum strap and waist buckle for securing the bag to your body for an even more balanced wear.
As far as the inside of the bag goes the ecbc B7103 Lance Daypack is feature rich as well.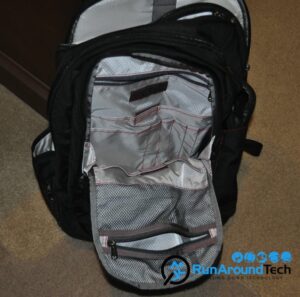 In the front compartment you'll find a deluxe organizer panel with key hook.  I used this for pens, business cards, some sundries, an iPad stylus and a few other smaller items.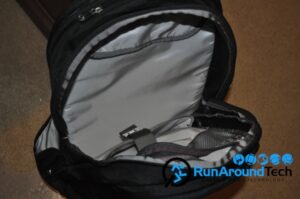 The main inside, or middle compartment is meant for books, magazines, folders/paperwork.  While at CES it houses my notebooks, extra batteries my show badge and more.  There's also a special tablet pouch, which is where my iPad Mini lived.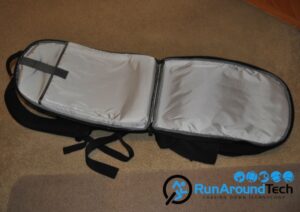 The ecbc B7103 Lance Daypack is TSA compliant thanks to its FastPass foldout compartment for quicker security checks.  I took advantage of this at both my outgoing and return flights.  Instead of fussing to find my laptop and having to put it into a plastic bin I simply unzipped the large back compartment all the way, laid it flat, and sent it through the X-Ray machine.  This compartment will hold up to a 17″ laptop computer but also contains a removable foam spacer to accommodate smaller laptops as well.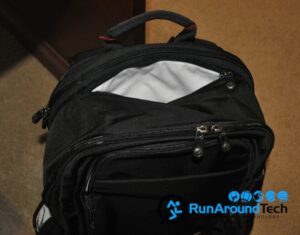 At the top of the bag you'll find a fleece-lined top utility pocket for music players, camera, sunglasses, etc.  I used this most often for my iPhone.  It offered me a quick and easy place to place my iPhone if it needed recharging yet still allowing me to grab it at a moments notice.  Since the pocket is fleece lined I knew my phone was going to be protected and it's small enough that I wasn't putting anything else inside that might have otherwise damaged my phone.
Want to see everything I managed to pack inside the ecbc B7103 Lance Daypack for CES 2013?  Check out the video above.
Here's the full list of everything I packed inside the ecbc B7103 Lance Daypack for CES:
13″ MacBook Pro, with charger
iPad Mini
Notebook
CES Badge
Canon 100 HS, extra battery, extra SD card and charger
Business Cards
2 iPhone chargers
iPad charger
Various sundries (Advil, mints, lip balm, etc.)
Note 2 Charger and Extra Note 2 battery
Headphones
Ethernet Adapter and Cable
iKlear travel wipes
Pens
NewTrent 12,000 mAh and 5200 mAh external batteries with chargers and cables
Travel power strip
So how did the ecbc B7103 Lance Daypack perform at CES?  I give it an A+.  This bag is flat out awesome.  What strikes me most about it is how much stuff I was able to fit inside it yet how slim the bag both looked and felt at the same time.  I packed it with a ton of gear yet the bag never seemed more than half full to me while using it.
When I offered to test out the ecbc B7103 Lance Daypack at CES I was nervous.  One's gear bag choice might be the single most important decision a CES attendee makes.  A bag that's not functional leaves you bumbling around trying to find the gear that you need.  One that's not comfortable leaves your sore.  And one that's too small means you won't have room to pick up goodies at the show.
I can honestly say that the ecbc B7103 Lance Daypack was the best choice for a gear bag for CES that I could have made.  I could not have been any happier with it.  It performed perfectly.  The ecbc B7103 Lance Daypack is large in what it can hold, fully functional with tons of different compartments and quick access points yet it wears like a smaller daypack would.
In the world of marathoning the ecbc B7103 Lance Daypack just qualified for Boston! (The Boston Marathon is open to runners 18 or older from any nation, but they must meet certain qualifying standards. To qualify, a runner must first complete a standard marathon course certified by a national governing body affiliated with the International Association of Athletics Federations within a certain period of time before the date of the desired Boston Marathon (usually within approximately 18 months prior).)
I'm making the ecbc B7103 Lance Daypack my goto gear bag for any other events I have to cover in the future.
You can learn more about the ecbc B7103 Lance Daypack by visiting this page on the company's web site.
MSRP:  $149.99
PROS:  Tons of pockets and compartments.  Comfortable.  Wears thin.
CONS:  None.
Original Author: Larry Greenberg