There are 9 models of the Spigen Linear Series showcase the collaborative work by Karim Rashid, with his unique design style that uses splendid colors and curvy lines.  The Harmony, Karma, and Blobism designs are each expressed with symbolic characters, curved lines and gradation patterns, respectively.
Continue to read on for the full review.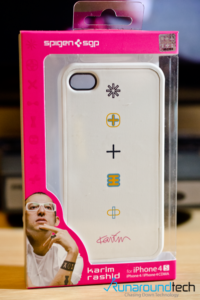 The case comes in 3 separate pieces which later on if you choose to buy any more parts from the Spigen series you can mix and match, which is great because you can make your case unique to fit what ever style you want. The case consists of the bottom top and back-plate.
The bottom of the case has 3 separate cut-outs for your microphone, speaker and docking system. This case is dockable which is great because I'm not one to like removing my case constantly.
On the left side of the case you have one large cut-out which allows for easy access to all your switches and buttons, and it also makes it iPhone 4 and 4S compatible.
The top of the case has cut-outs for the sleep/awake button, secondary microphone and headphone jack. There might be some difficulty with headphones/earbuds due to the deep cut-out for the jack.
The camera cut-out for the case is sort of small but gets the job done, you have no flash back issues because of the added black line around the hole.
With this case and any other of the cases from the Spigen series you can mix and match with this design along with many others, go over to the Spigen website and mix and match your colors to make your iPhone case unique to you!
MSRP: $27.99
PROS: Does not bubble screen protector, Confortable, Mix and Match with other cases.
CONS: None.
Original Author: Ashley