If you're anything like me you probably get a ton of emails.  It seems for most of us email has become the primary way we use to contact one another.  The MailTones app is a fun app for the Phone, iPod Touch, or Blackberry that is helpful in alerting you when you have new emails.  By allowing you to set different sounds for different triggers (senders, subjects etc.) you'll know who emailed you without ever having to take your phone out of your pocket or purse.
Read on for more.
When you open up the app you need to first register an account and have your email forwarded to the MailTones email address.
Once you have an account up and running you can pick the sound you want to hear for new mail that comes in.  The list of sounds is cataloged in alphabetical order.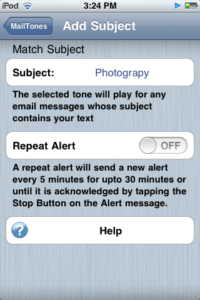 You can also add specific sounds for specific subjects.  If there is a particular type of email that you want to do a better job of keeping up with you can assign it a specific sound so that you'll always know when a message about it arrives.
Perhaps there are important emails from somebody that you need to reply to as soon as possible?  Just set up a specific sound for that particular person and be notified as soon as an email from then arrives in your inbox.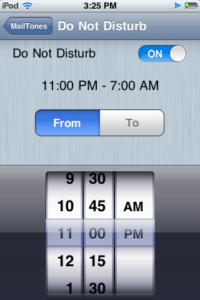 There are probably times during the day where you do not want to deal with email at all.  Perhaps you want to enjoy actual reality as opposed to virtual reality.  Thankfully you have the option of turning off the app for any sort of time period you see fit.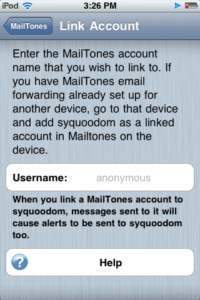 You can link all your portable devices to MailTones by typing your email into the "Link Account" option on the app.
Well that is all there is to it.  It is not complicated and it does not have to be.  MailTones works well and would be useful for anyone that wants to be aware of specific types of email coming into their iPhone, iPod Touch, or Blackberry.  The app is $2.99 and available in the iTunes App Store.
MSRP:  $2.99
PROS:  Useful for those who need to be aware of certain types of emails the second they come in.
CONS: None.
Original Author: Zach Buckler