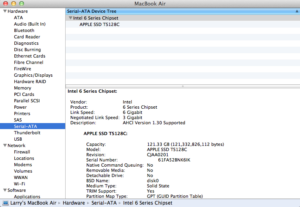 Jonathan fron tldtoday might want to consider a second career as a detective. Over the last week he's been trying to decide which of the new MacBook Airs best suit him, either the 11″ or the 13″. How has he been "trying to decide?" By purchasing both and trying them out during his day to day tasks. While running benchmark tests on both machines and one of the things he discovered is the hard drive on his 11″ model running much faster than that of his 13″. Turns out there's a good reason for this. It appears Apple is using two different hard drives for the MacBook Air, which were just released last week. Some Airs have the older Toshiba SSD drives while others have a newer Samsung drive. The problem is that the Toshiba drives are noticeably slower than the newer Samsung drives. Jonathan noticed his 13″ Air has the Toshiba drive while his 11″ has the Samsung.
I checked my 11″ Air and sure enough I also have the older Toshiba drive in it. To see which drive you have head to About this Mac, More Info, System Report then click on Serial-ATA in the side bar. Right in the middle of the box you'll see the information for the SSD drive in your particular machine – in my case the Toshiba TS128C. The Samsung drive shows SM128C.
What are your thoughts on this? Jonathan plans to try to exchange his 13″ Air for a model with one of the newer Samsung drives installed. Personally I'm not sure I'll notice a difference. Even the Toshiba drive I have on my 11″ seems to be screaming fast.
Check out Jonathan's video on the entire situation after the break.
Source: https://theinvader.com/
Original Author: Larry Greenberg