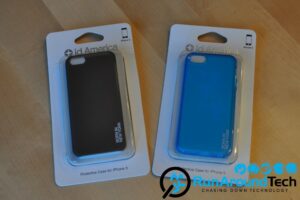 id America has long been one of my favorite iPhone case manufacturers.  One of the main reasons why is the fact that they don't push out a hundred different products.  They do a small amount of cases and do them very well.  Two of id America's newest offerings are the Liquid series and the Mist series, both for the iPhone 5.  The Liquid series, which is a ultra glossy TPU style case, comes in a ton of colors.  While the Mist is a snap on the back style case that's impossibly thin.
Click on through to watch my full video review of both the Liquid series and Mist series cases from id America.  When you're done watching you can learn more about the Liquid here and the Mist here.
Here's how id America describes the Liquid…
Thick padding provides optimal drop protection, preserves the look and feel of the iPhone, lay-on-the-table design.

Form fitting minimal design, preserves the look and feel of the iPhone, light weight, scratch resistant.
MSRP:  Liquid & Mist series both sell for $14.95
PROS:  Thin, tons of colors, expensive.
CONS:  Mist lacks protection.
Original Author: Larry Greenberg